Diner at Homerun Park is the second restaurant of Hometown Hero.
History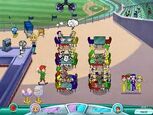 After Flo and Grandma Florence finished their work in the Zoo, they drove to the Baseball Stadium to watch the game currently being held. Seeing the poor attendance and service, they decided it was another time for them help out the place. Going through the shifts they slowly began to restore the area to its former glory. After finishing up they drove away and left the stadium.
Appearance
The restaurant rests on a very large balcony with an overview of the baseball field and seats. The entire restaurant can be upgraded with several items themed to baseball, the counter and kitchen are to the left and the tables are to the right.
Employment
Flo - Waitress
Grandma Florence - Chef
Versus Waiter - Waiter/Waitress
Ad blocker interference detected!
Wikia is a free-to-use site that makes money from advertising. We have a modified experience for viewers using ad blockers

Wikia is not accessible if you've made further modifications. Remove the custom ad blocker rule(s) and the page will load as expected.