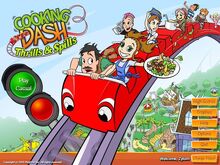 Cooking Dash 3: Thrills & Spills is the third of the Cooking Dash series that is released on 2010. The unique part of this game is that all of the familiar characters in the DinerTown universe are in their younger versions.
Story
The game opens with Flo, Grandma, and Darla going to Dinerland amusement park. Flo remarks that the park wasn't always that nice. We are taken back to what looks to be the 1980s, where a young Mr. Big is worried about the latest purchase he has made, presumably with his father's money - BigWorld. He comes across a teenage Flo working a food cart at the park; the only one that is making money. He subsequently hires her to run the restaurant in the Jelly Roger ride. With the huge success of the restaurant, Mr. Big opens another one in the Log Jam ride, followed by restaurants in the Spooky Shack, Deep Dive, Tree Tops, and (in the collector's edition) the Big Gold Rush ride.
By the end of the game, all the restaurants are thriving, BigWorld is in pristine condition, and Mr. Big is able to please his father. Big Sr. then invites him to manage at Big Corp. with Flo suggests that he donates the park to public and call it Dinerland.
Restaurants
Jelly Roger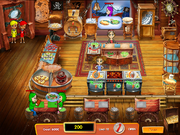 The Jelly Roger Ride is the first restaurant that Flo will renovate. It's pirate ship themed and features French Fries, Grilled Fish and Deepfried Fish as the main dish. Grandma Florence will cook up some salads in the middle if ordered. This restaurant features baked pumpkin as snack and chocolate-cherry cake(baked by Flo herself!) as dessert. Sour sauce and tomato sauce are available in this stage. The customer are Young Lady, Kindly Senior and Business Woman.
Log Jam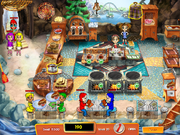 The Log Jam Ride is the second restaurant with rainforest and waterfall theme. It's the first stage to introduce meat grinder, an appliance that's vital to make meatloaf sandwich, one of the main dish. Other dishes are chips, fried meat, clam soup and tomato soup, the last two can be ordered from Grandma Florence and must be put in "special bread bowl" before serving. This restaurant features rice cracker as snack and creamed chocolate cake as dessert. The famous Celebrity and the Starla Starlet are introduced in this stage.
Spooky Shack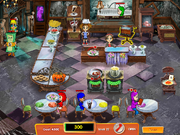 The Spooky Shack is the third restaured and haunted house themed. It features Spaghetti and Meatballs as the main dish with two kind of sauces and olives. Like in Jelly Roger, Grandma Florence will cook up some scary-looking salad. This restaurant features cookie as snack and pumpkin cake as dessert. Bill Bucks, a Cooking Dash version of Hal the Hungryman, is introduced in this stage.
Deep Dive
Tree Tops
Big Gold Rush
It's only in the Collector's Edition.